Den 1. august 2014 udførte Enlightened agenter i København operation Appleseed CPH. Operationen var en del af en global link star event i konkurrence med andre byer, inspireret af den amerikanske legende Johnny Appleseed med at plante grønne æbletræer.
Johnny Appleseed roamed the US in 1800s freely planting apple trees. This is a Public Relations mission to engage and include our new agents. On Fri 1 AUG agents in every city will build these starburst portals we will call "Apple Trees", screen shot them and flood G+ and Facebook with the sitreps. Great fun, easy mission for the new agents, AP, key harvesting lesson and good recruiting material. It should be easy to get it trending. This is not top secret, so please invite all your trusted Enlightened, and plant one (or more!) apple trees in your city!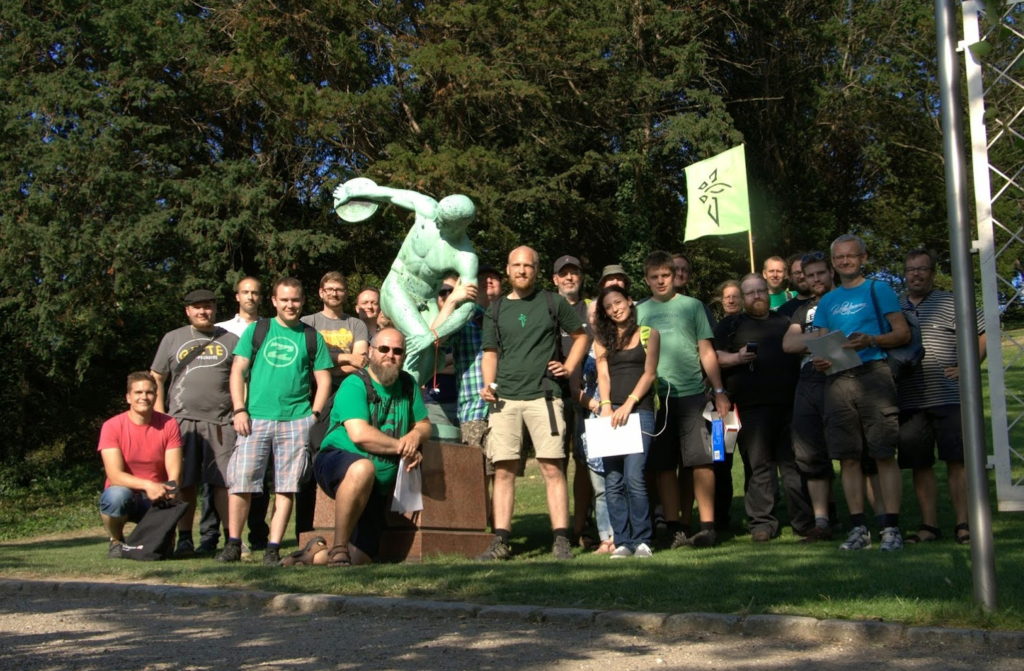 Centerportal var oprindelige planlagt til Botanisk Have og der var målet at farme over 900 nøgler. På dagen omgruppede agenterne i stedet til en centerportal på Kastellet.
Det var mit første Ingress event, hvor vi var en flok nybegyndere, der løb rundt i Kbh sammen med nogle erfarne agenter.
Situation Report
A good leader knows how to plan. We had selected the portal for seeding our Apple tree a week in advance. The goal was to farm 900+ keys before the event. The seed was, fittingly, located in the gated Botanical Garden of Copenhagen, which closes at 18:00. At the same time, 8 teams would start growing the tree along pre-planned routes. We met around 16 for a final burn down of the portal, chit-chat and greetings, and ice cream in the pleasant garden. A nice mixture of new and old players with Android and iOS devices. Everything was ready, nothing could possible go wrong.
Of course something went wrong. A construction site at one corner of the garden had left one possible route of access open, which a quick smurf used to kill the seed quarter past 18, before it had grown to even as much as a sapling. Frustration. What was to be the beginning of a fun evening seemed to have ended before it started. But this is the kind of situation where the great leader shows why he is not merely a good leader. GaLaReN, the mastermind behind the original plan, came up with a new one. One team went to burn down the smurf homelands as a diversion masqueraded as revenge. The rest kept a low profile, while key farming on the Copenhagen Citadel, an old defensive structure where access closes at 22:00. The Citadel has, unlike the Botanical Garden, armed guards.
At 22:00 a second Appletree grew, which despite fierce Resistance, eventually grew to cover most of the inner city, with branches into the surroundings areas of Nørrebro, Østerbro, and Holmen.
Participating agents: GaLaReN, alyore, Nusseren, knoldesparker, Theperab, elek90, GuFFiDK, LairdKi, Sudax, Bashrak, Snyg, DoggeWag, Mellen, Pivegiraf, SimonDorte, CmdKure, Spinnegal, taggorto, ath88, Klovna, Zharatziel, Kemad, Kralian, Pegel, Erkonge, Hejmdal, Psykokaninen, Kratluskeren, MothMachine, Tais007, Shadowkult, Ta8u and more!